Petition
In the evening of July 4th at U.S. Independent Day celebration, Yaning (one of our bloggers here) and Hongwei (whose story was posted in April) brought a petition to the Rose Bowl fireworks and collected signatures before the event.
SOS! Urgent: Rescue Our family Members Persecuted in China
They Were Arrested Due to Beijing Government's Clearing The City For 2008 Olympics
Photo: one page of the petition. (click to enlarge)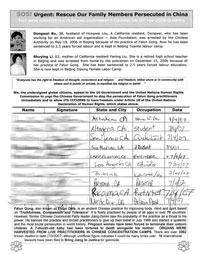 They collected 450 signatures on that day. The petition will be sent to related officials regarding the Rose Parade. For more background on the petition please see Yaning's earlier post
No cause for celebration
, an article published on local newspaper, and stories from Yaning and Hongwei which were posted in
April
.
posted by Jane @ 12:19 PM